Preschool rallied up, and combined their golden tickets to purchase a classroom Root Beer Float party! Nice, teamwork, pre-K!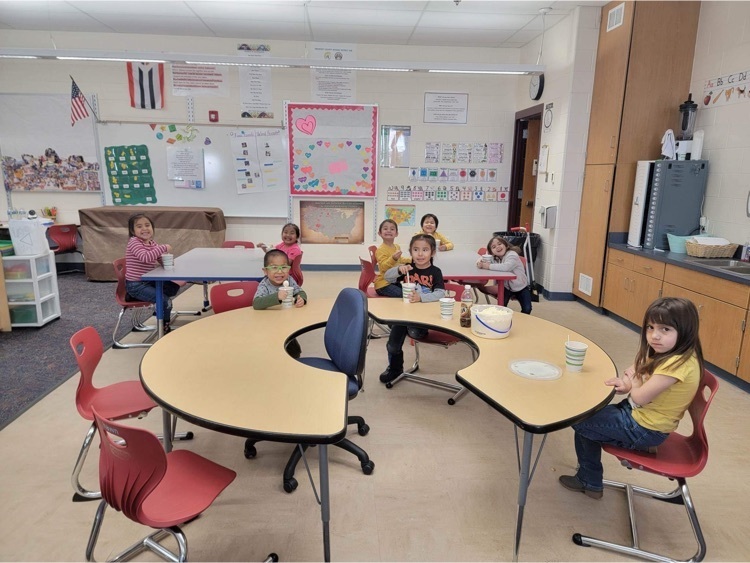 ACHS English students explore a different kind of seating arrangement in Mrs. Pasquinelli's class. Thanks to a grant, the class received a conference table and chairs (and previously stand-up desks) to learn in more collaborative seating style. Students even had an assignment of following directions to put together their own chairs.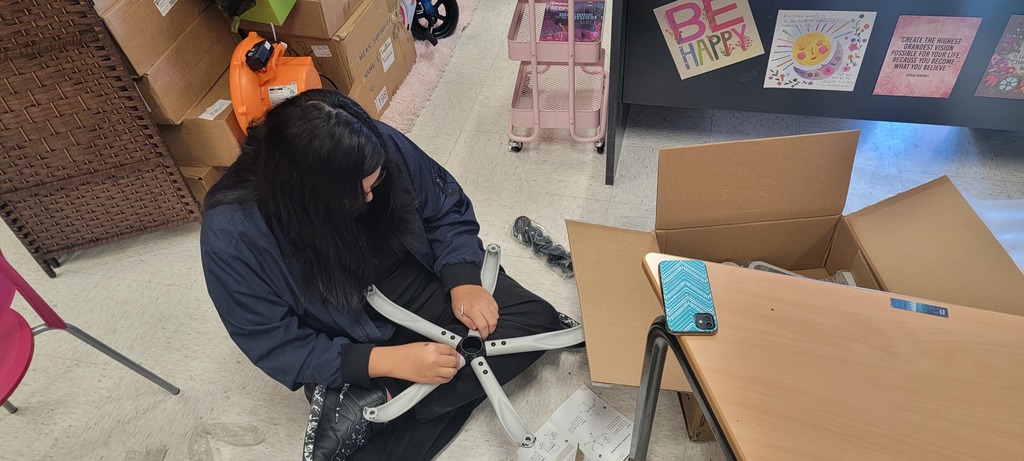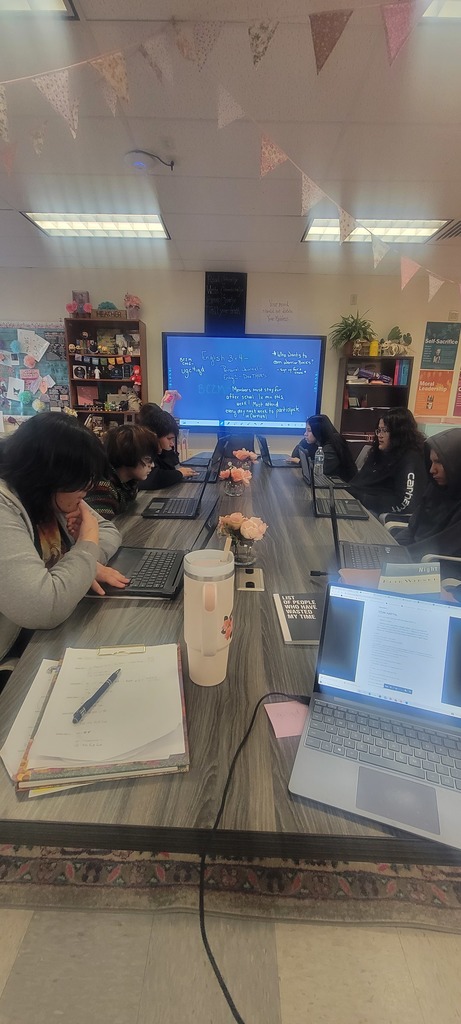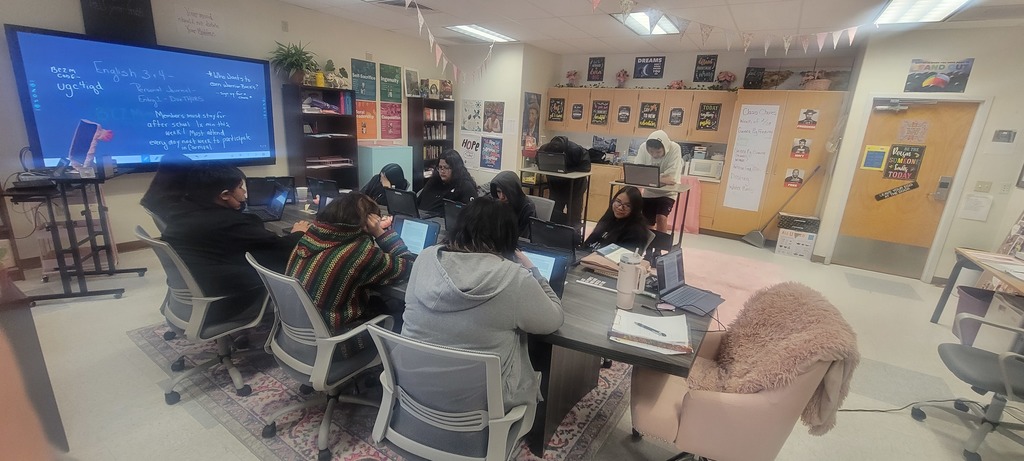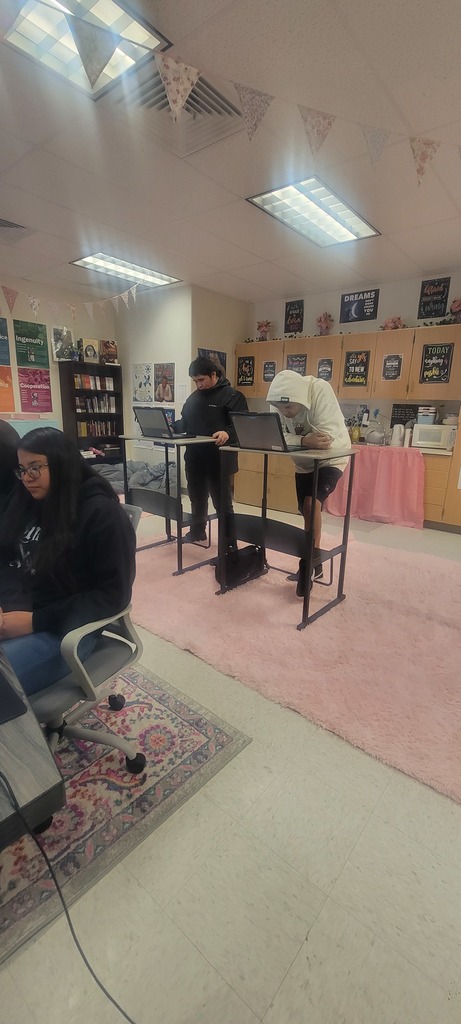 Last Friday, students at ACHS participated in a school-wide community meal...and even cooked some themselves! Students in Mrs. Pasquinelli's group took a cooking class and cooked two kinds of soup. Some students chose not to cook and instead participated in wood burning and mindful coloring pages.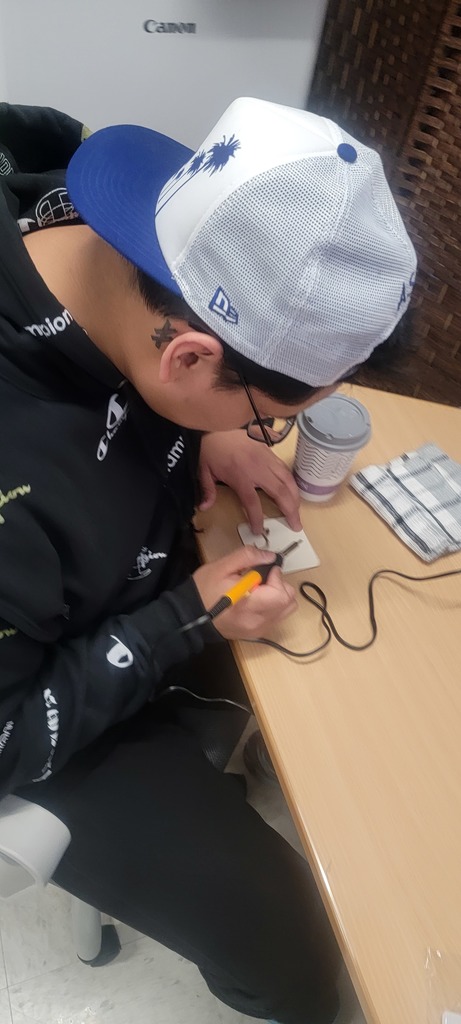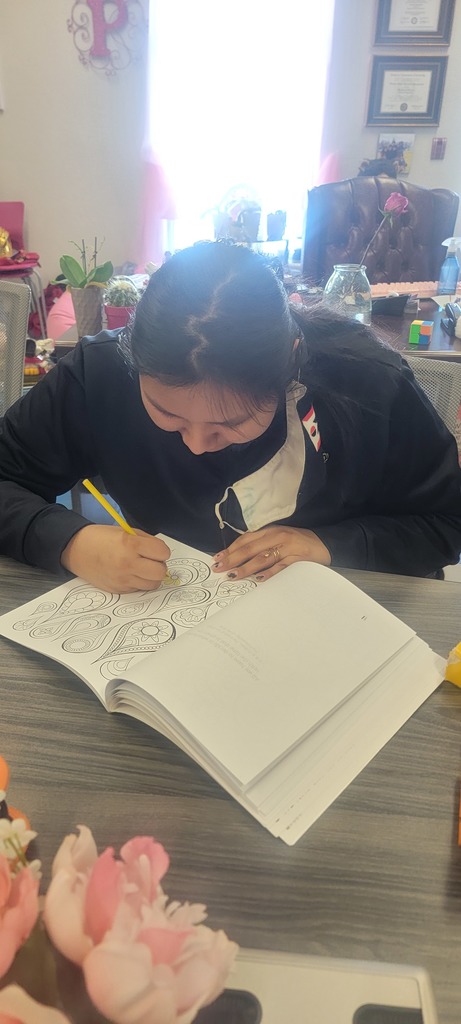 SOAR- Arts & Crafts! Make and Take Home! Pinata Making!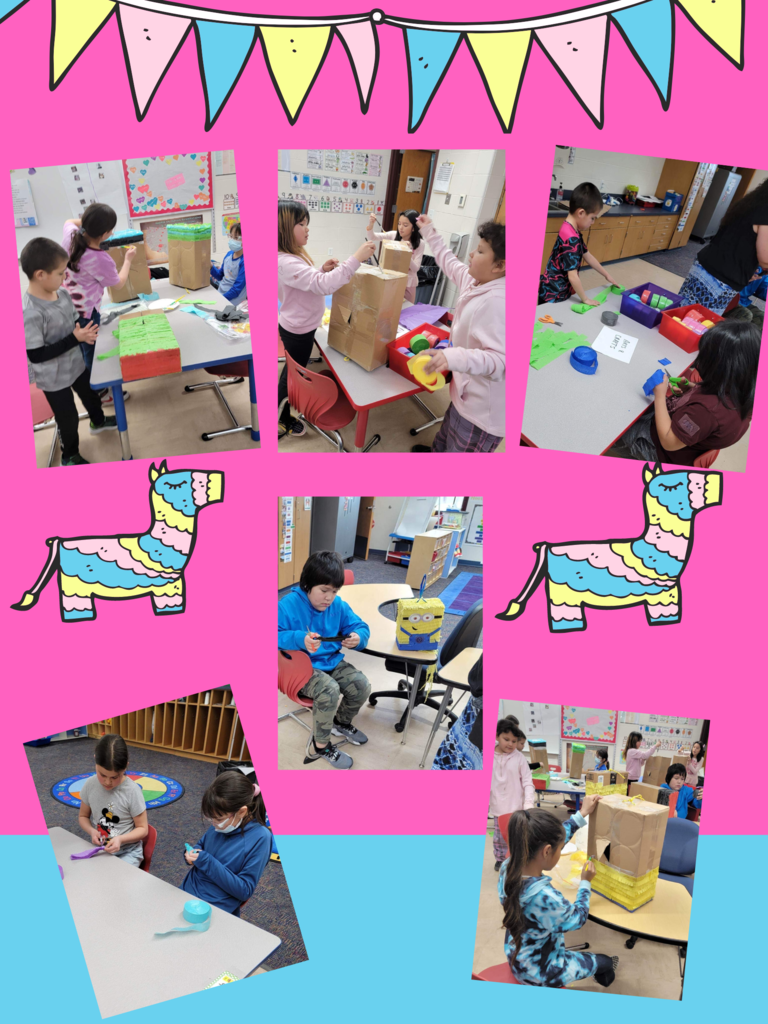 Another SOAR after school program, fleece tie blankets. A few finished finished projects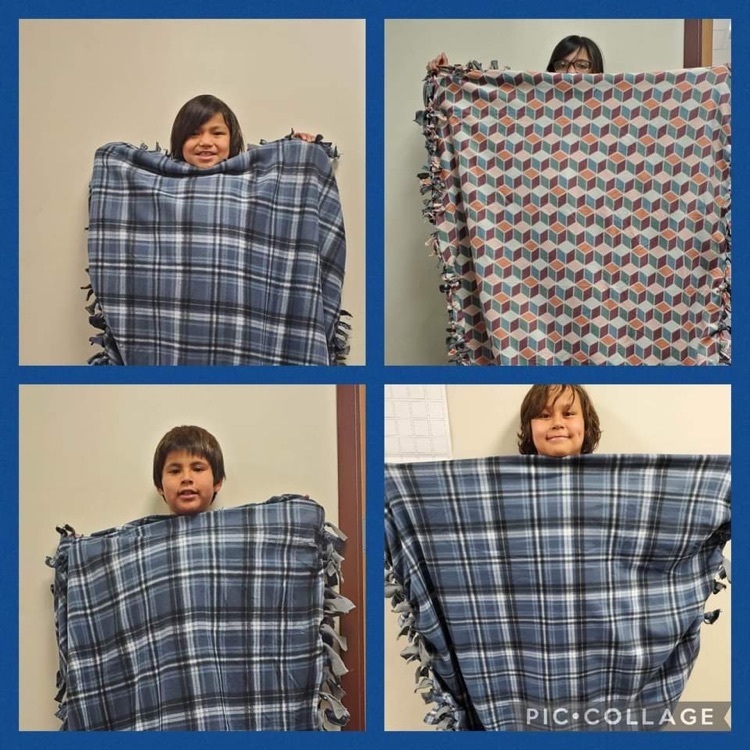 Our SOAR afterschool beading group has been working hard. Just look at these beautiful creations!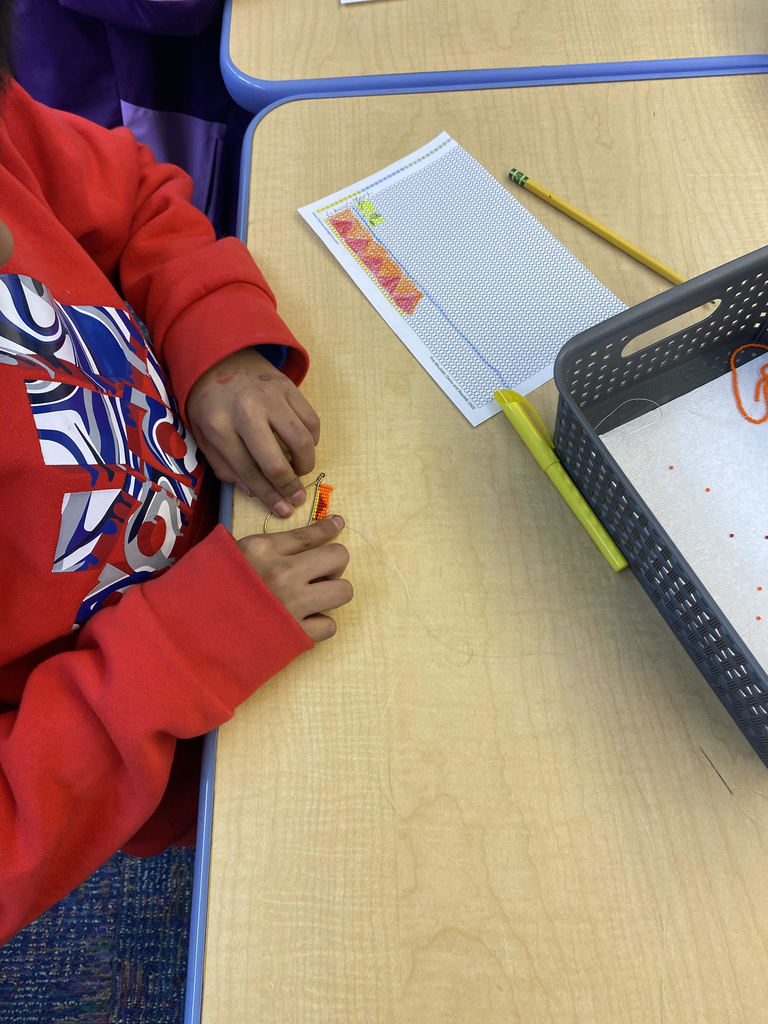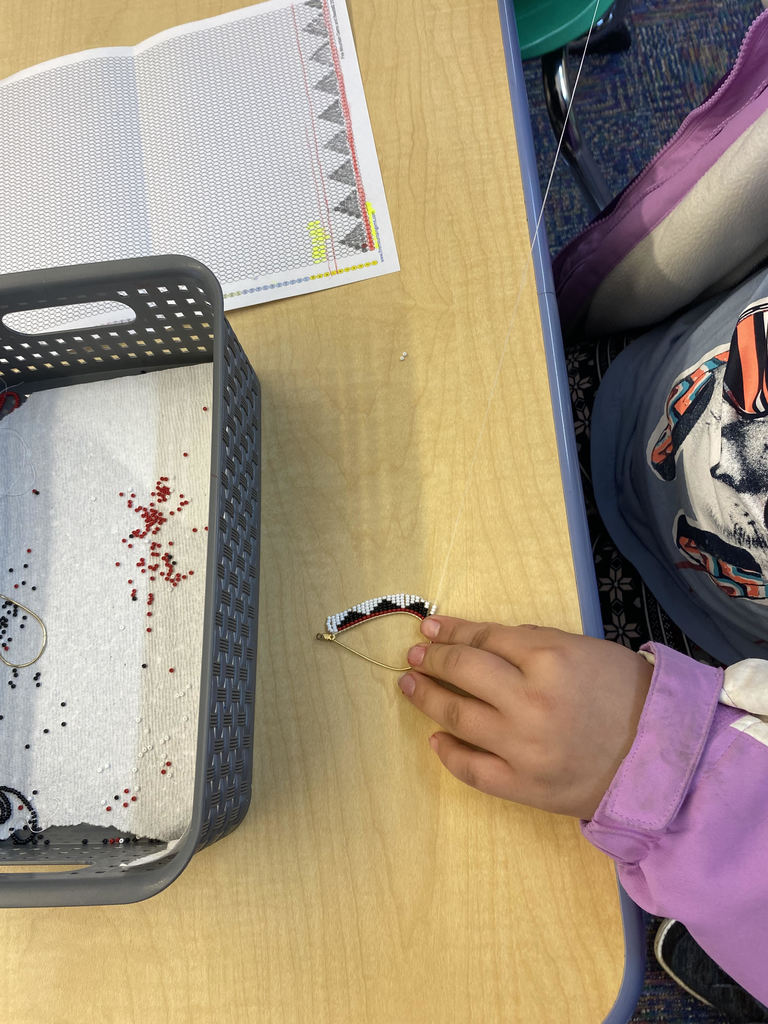 The A.E.S. March Madness Attendance Competition starts tomorrow March 1st! Let the Competition Begin!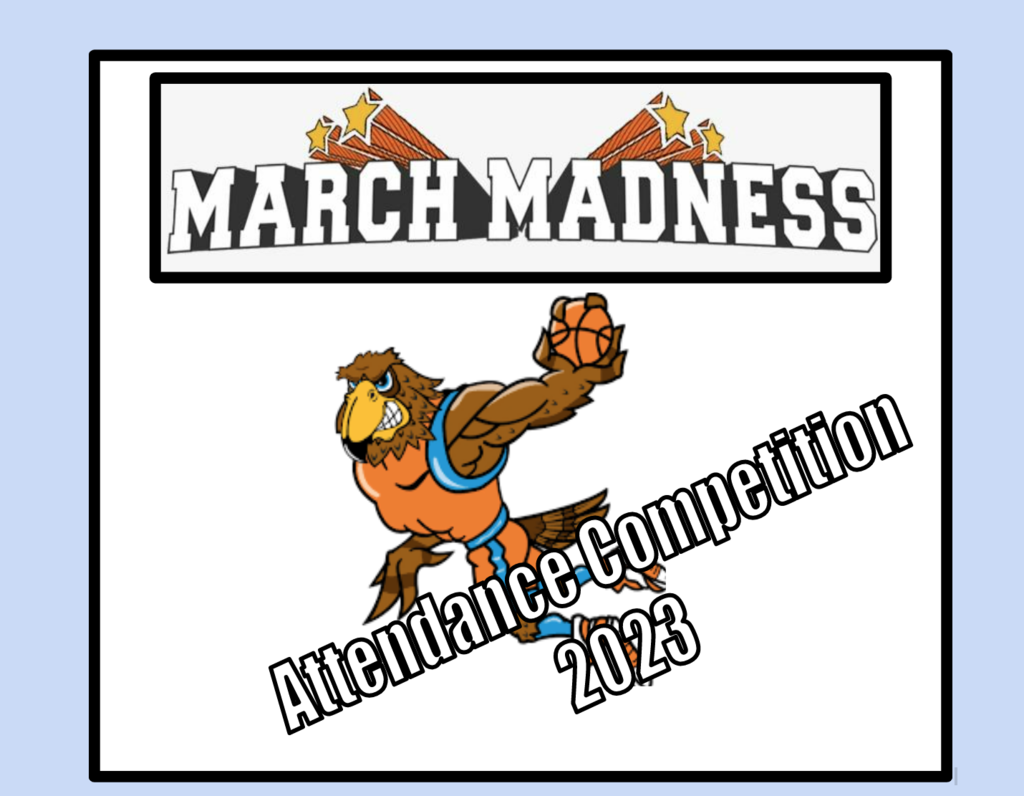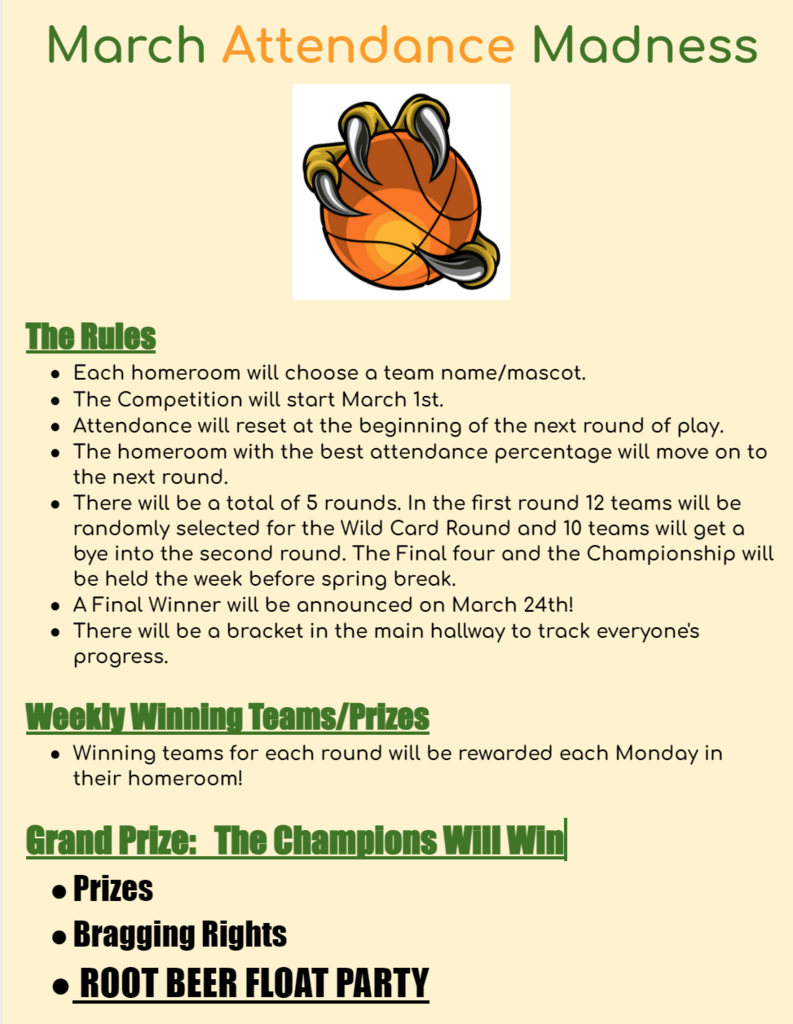 "The Mascot Challenge contest has returned for a fourth year. For those of you new to the event, each year we do a March Madness-style competition to declare Fremont County's most popular mascot. " Round 2: Feb 27 - March 1 Final 4: March 1 - March 3 Championship Round: March 6-10" The link to vote:
https://county10.com/mascot-challenge-2023/

Food Distribution TODAY! Hohou to everyone who contributes their time!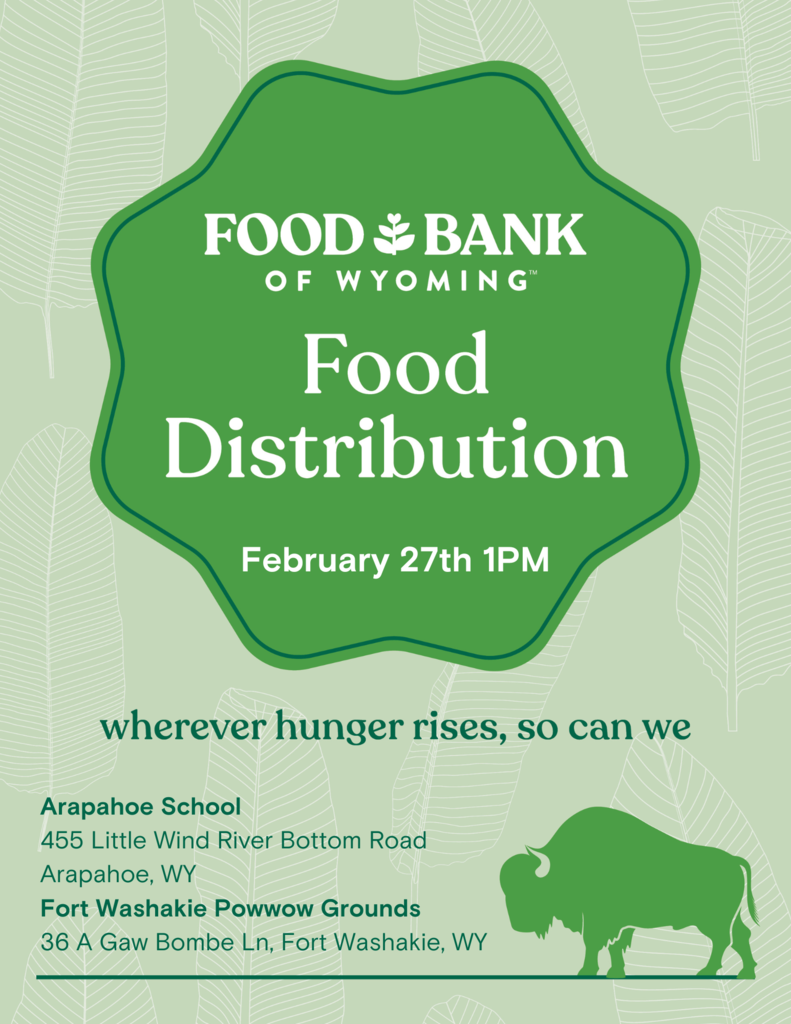 Hinono'eitiit Family Study Guide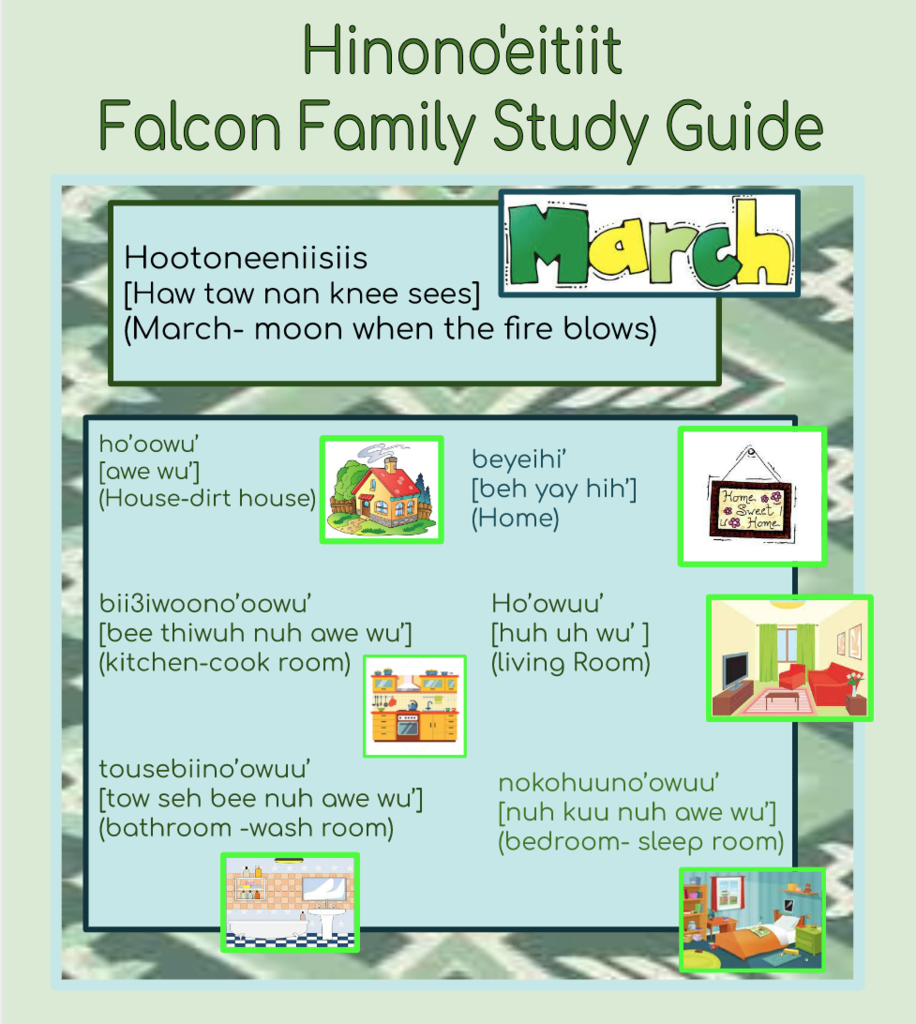 The week of February 26th - March 3rd at ACHS is Bring Change to Mind week to cultivate connection and support for mental health.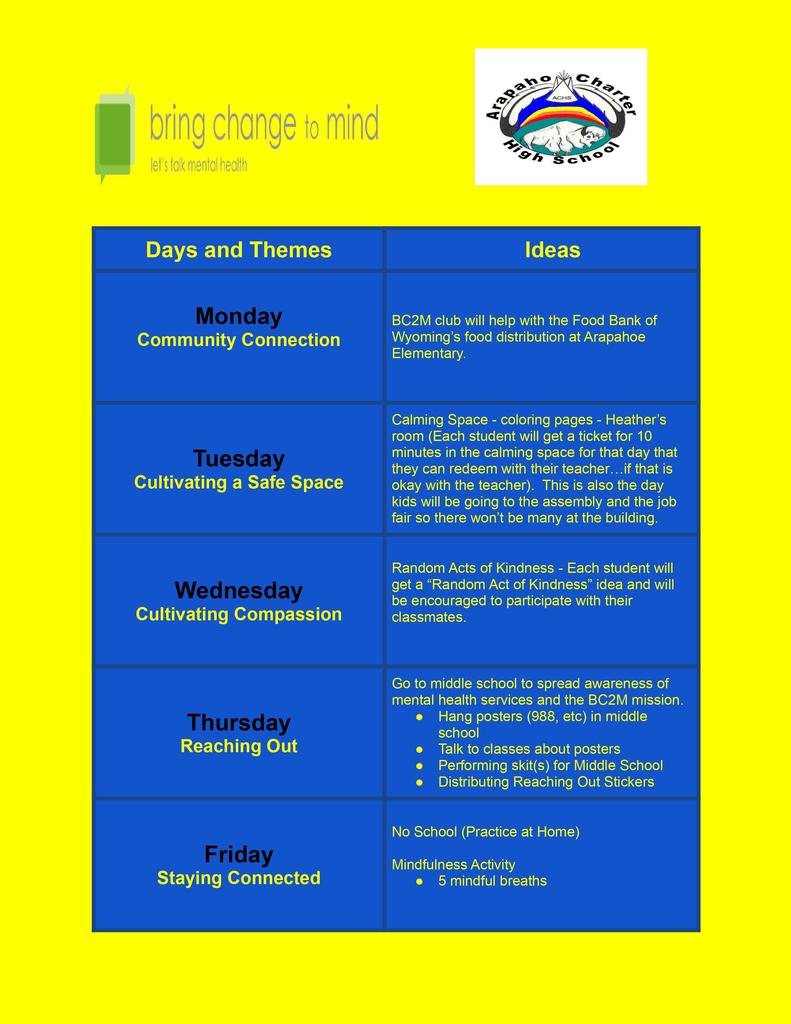 On March 10, the Arapaho Charter High School's Bring Change to Mind Club is sponsoring a Healthy Minds Carnival. Bring Change to Mind is a nonprofit organization dedicated to encouraging dialogue about mental health and to raising awareness, understanding, and empathy. Although this is a national organization, our high school club is the first and only one in Wyoming at this time. School clubs are encouraged and guided to create safe spaces for teens to talk about mental health and to offer resources for mental health connections. The Healthy Minds Carnival was made possible by a grant from Donors Choose. Club members from Bring Change To Mind will be hosting the event and will offer carnival games such as ring toss, sack races, egg and spoon races, milk can toss, cornhole, duck pond, and so many others. There will also be a tricycle obstacle course, football throw, face painting, and a basketball free throw contest. There is a bounce house as well as cotton candy and popcorn...and LOTS of PRIZES! And the best part is it is all FREE thanks to our Donors Choose grant! The BC2M Club wants to offer some fun activities to help the kiddos mental health during these longggggg winter months that seem to never end. :) We are hopeful it will be a success so we can make it an annual activity and invite the community, as well. For more information about Bring Change To Mind, please visit
https://bringchange2mind.org/
If anyone has any questions, please contact the sponsors, Patrick and Heather Pasquinelli, at the high school. Look for the story on County 10 for more details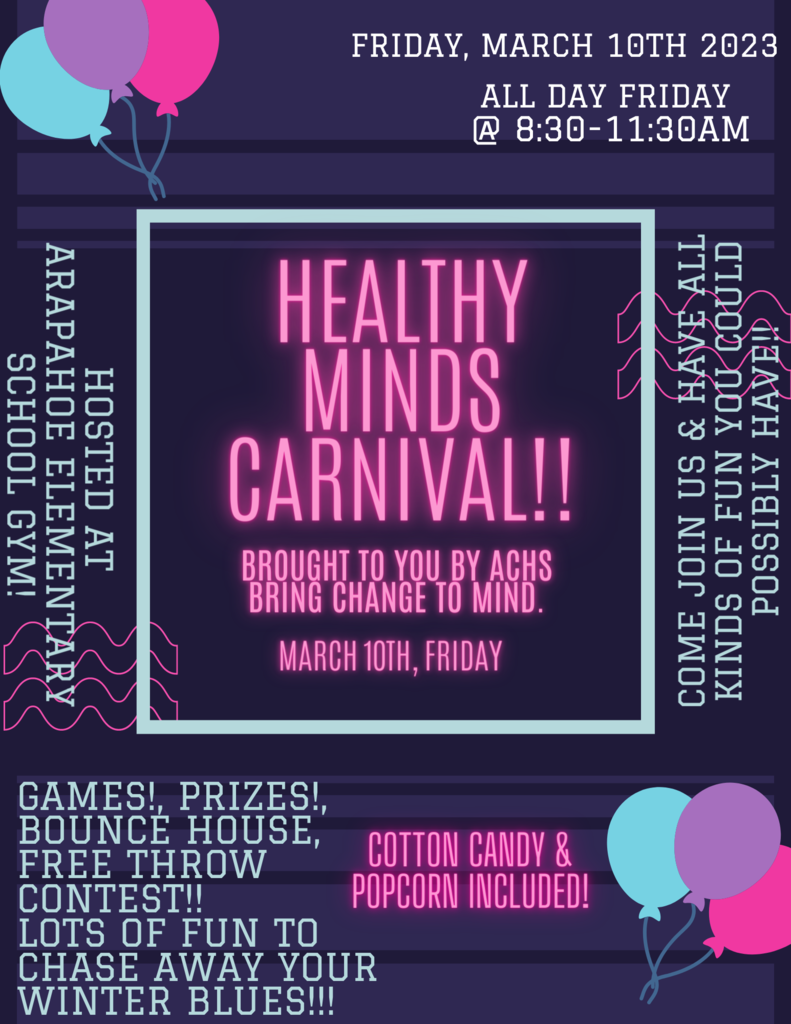 A.E.S. Newsletter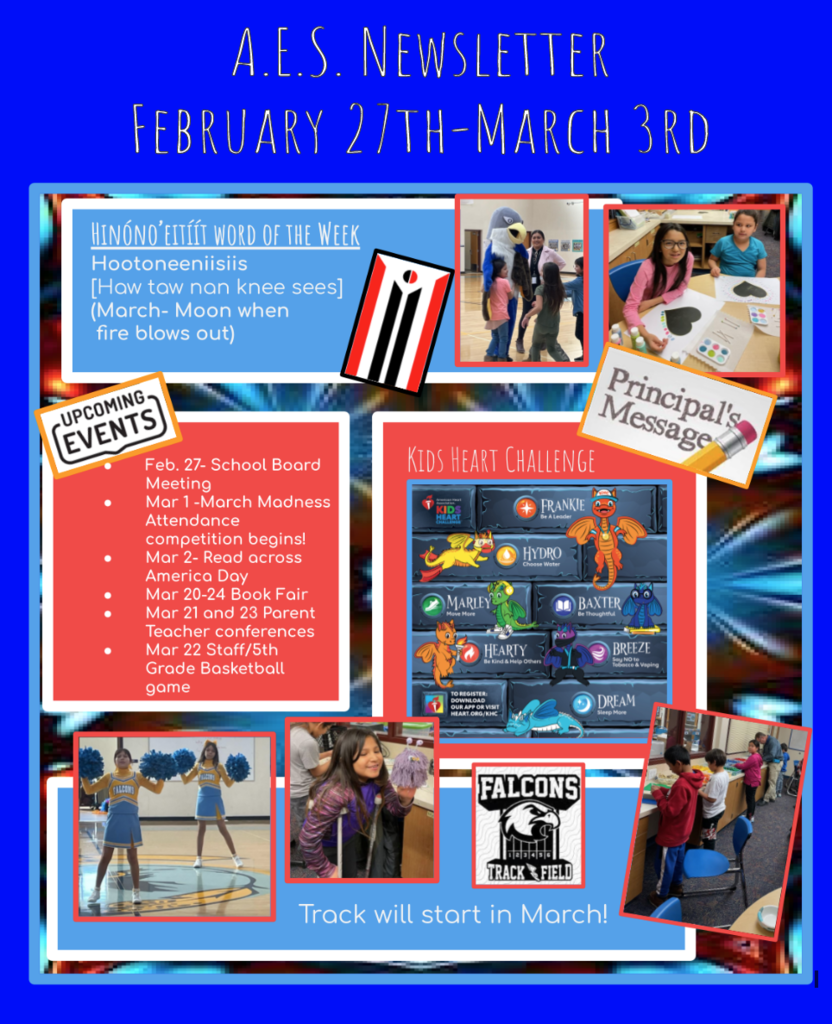 Arapahoe Schools Community: Due to the incoming winter storm and the potential impact to student safety, school on Wednesday, February 22 will be CANCELLED for students and staff. Additionally, we will observe a 10:00am late start on Thursday, February 23. The snow day will be made up on Friday, March 24, 2023. That day will now be a school day for both students and staff. All afterschool activities will be cancelled on Thursday, Feb. 23. On Thursday and Friday, we will be operating bus drop off and pick up spots for routes within the city of Riverton. Buses will be at the following locations to transport students to school: Bus 27 (Beaver/Hebes) will be at the Walmart parking lot Bus 31 (Horse/Wooxhoox) will be at the Ace Hardware parking lot Bus 30 (Elk/Hiwoxuu) will be at the Smith's parking lot On Thursday the buses will be parked at the locations from 8:30am to 9:30am and on Friday they will be there from 6:30am to 7:30am.

This might be our chilliest adventure yet. Falcon Families, Please see below for information regarding school and the uncoming storm.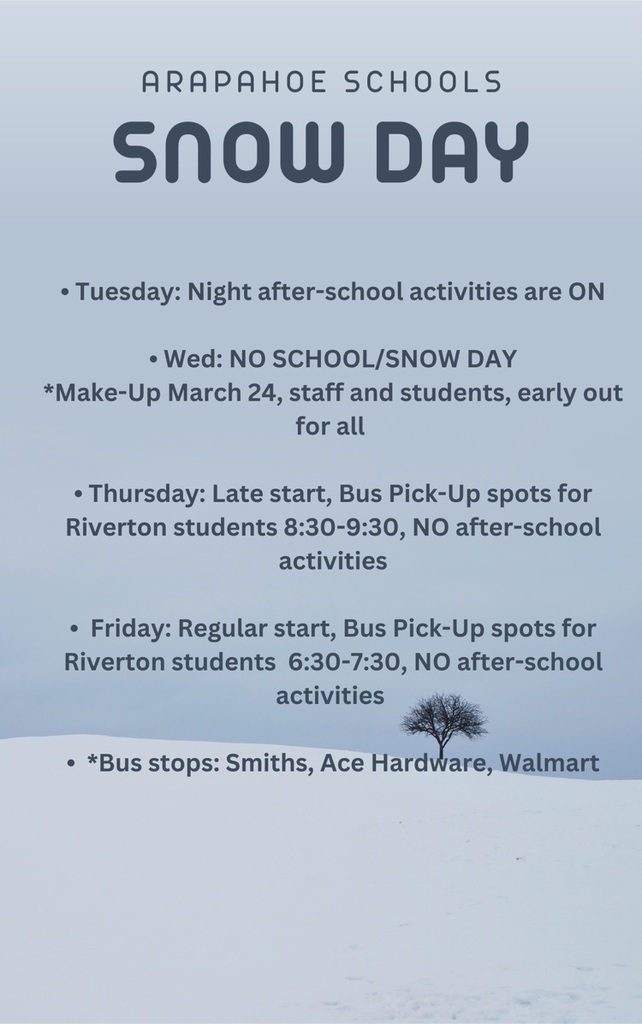 Hinono'eitiit Family Study Guide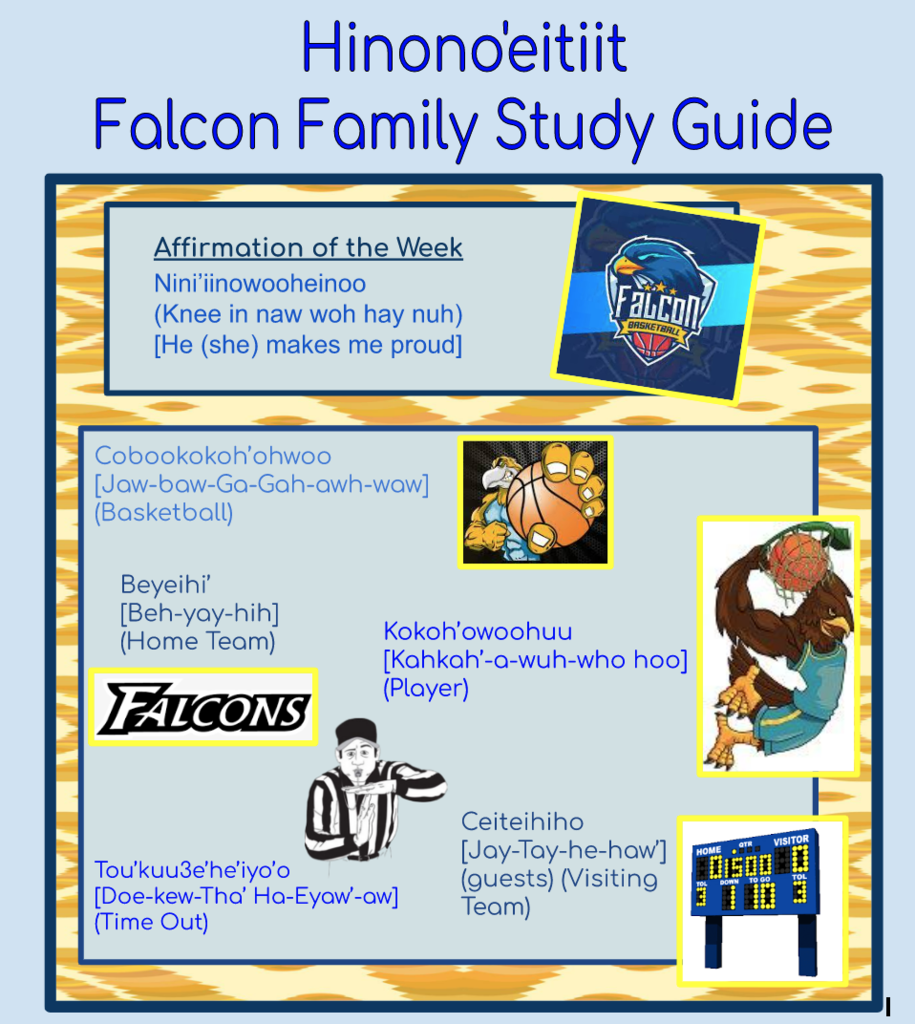 A.E.S. Newsletter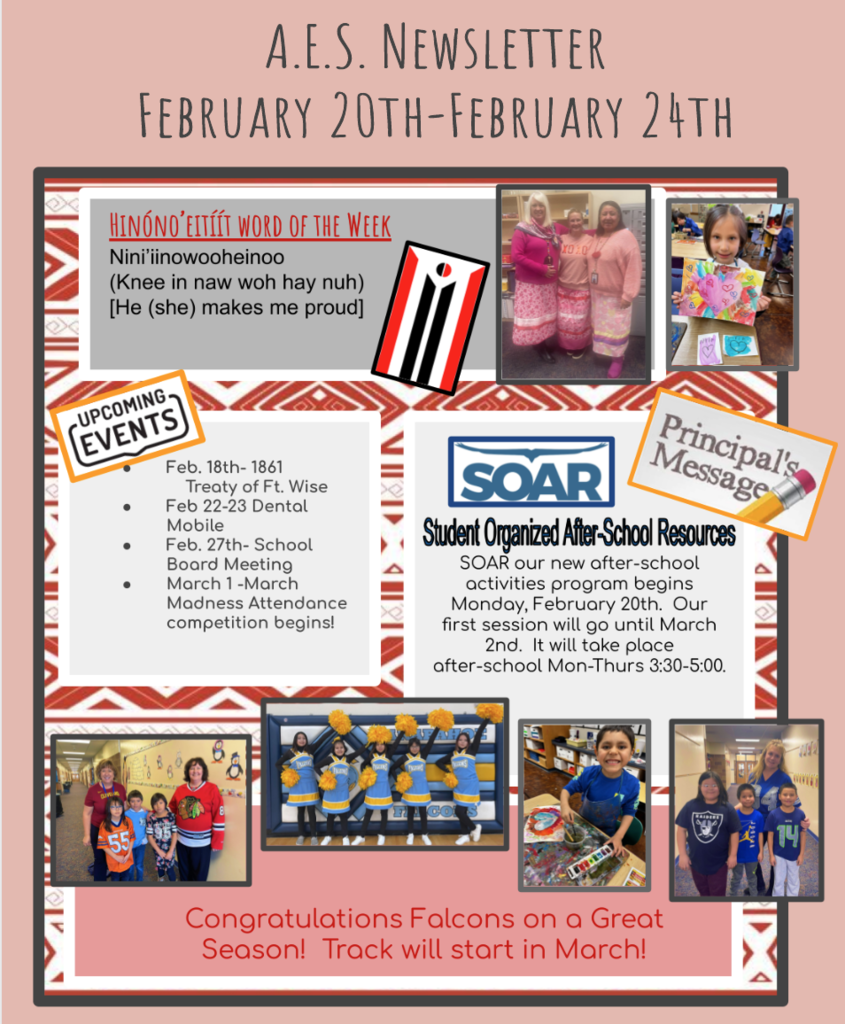 Mrs. Brown's class, celebrated Friday funday with forts, flashlights and books!!!